This is a new 1/144 88mm Flak (Motorised) Sd.Kfz "VOMAG"
[early version] from the new Kampfgruppe144 Black Label Series. Manufactured for Kampfgruppe144 (UK) by CGD (HK) . This vehicle is fully painted in Panzergrau scheme, weathered. Minor assembling required.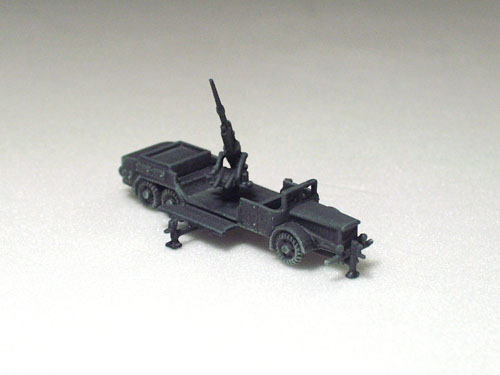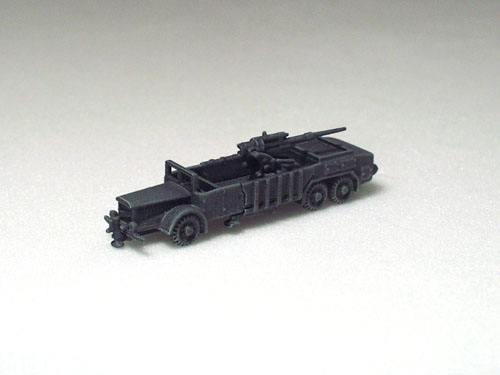 World Exclusive: Kampfgrupe144 one of the most globally recognised names in the 1/144 modelling and collecting community launches the Black Label Series.
The Black Label Series will seek to bring fresh and innovative miniatures to the collector by utilising the latest design and production techniques available to 1/144
The VOMAG is one of the most interesting vehicles in the inventory of Wehrmacht in WWII. It was not as some think a 'paper panzer', but a real operational vehicle that saw action across Europe.
The development of the VOMAG is an interesting one, based upon the Vogtländische Maschinenfabrik AG (VOMAG) design for the Büssing NAG 900L. The chassis had three axles, two of which were driven, and was powered by a 6-cylinder diesel engine that was capable of reaching 90 km / h. (55 mph).
It was armed with the 88mm Flak 18, but with barrel from the Flak 36.
"Arguably, making it the original and most fearsome 'monster truck'.....!?"

The Vomag served exclusively with the original Wehrmacht unit of the Führerbegleitbrigade (FBB: Führer escort brigade). It was highly mobile and easy to deploy to 'hot spots' across Germany and Occupied Europe. Notable engagements where the defence of German cities against Allied bombing, protection duties at Hitlers HQ the Wolf's Lair (Wolfsschanze) near Rastenburg, before the destruction of the units in February 1945 during the siege of Budapest.
(For more information on the VOMAG and command car, go here)
MODEL FEATURES:
This miniature has a range of interesting and unique features

1.
Optional parts (included) to built the VOMAG in transportation mode or firing mode.

2.
Elevating gun.
3.
Gun transverses 360 degrees.
4.
Digitally mastered and produced using state of the art 3D printing technology.
5.
Made with strong and flexible nylon material, extremely durable.
To learn more about the material or painting go here.
6.
Individually hand painted and weathered.