This vehicle is UNPAINTED and UNASSEMBLED.
This model is made with ABS-L using 3D printing.
Click here to learn more about ABS-L material.
This 1:144 Wehrmacht '46 German Panzer IV mit Schmalturm model contains 6 parts: a chassis, a pair of tracks, turret and two Schürzen.

The model features a rotating turret and two detachable Schurzen. Infrared devices are also built into the commander's hatch and driver's view port.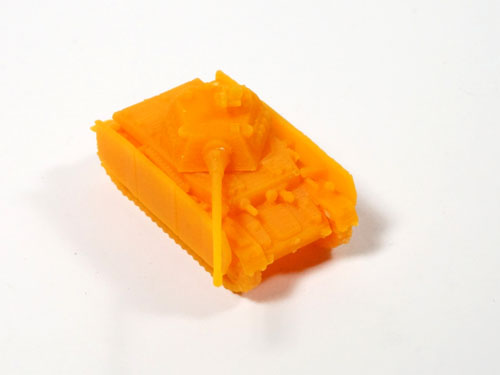 Painted Example:


"Panzer IV mit Schmalturm 7.5cm L/70 (KwK 42)" - Panzer IV was the most widely manufactured and deployed German tank in WWII since late 1930s. Facing ever increasing thickness of enemy armour especially the Russians, Panzer IVs were up gunned form the short barrelled low velocity gun to the long barreled 7.5 cm Kwk 40 L/43 high velocity anti tank gun. In Late 1944 to early 1945, Schmalturm (Small Turret) initially developed for Panther Ausf F was also considered to be mounted onto the Panzer IV chassis with a 7.5cm L/70 (KwK 42) used by the original Panther. The war ended before the original Panther Ausf F/Schmalturm project could get pass the prototype stage. None of the Panzer IV mit Schmalturm was ever built.