This vehicle is fully painted in Dunkelgelb scheme. Weathered and no assembling required.
This tank is modelled after a speculative drawing showing a Jagdpanzer developed from the E50 chassis. The gun compartment is in the aft position of the chassis similar to Elefant.


http://www.the-blueprints.com/blueprints/tanks/ww2-tanks-germany-1/44943/view/e-50_panzerjager_128_mm_kwk_44/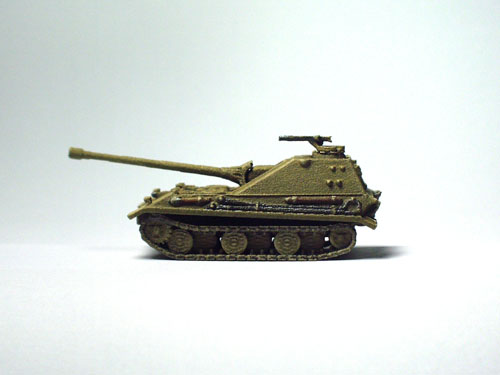 This design has the advantage of reducing the overall length of the vehicle which is important as Germans tried to mount bigger and bigger guns onto vehicles. This also meant that the engine of the vehicle would have to be placed in the front or middle part of the vehicle.
But unlike the Elefant which had a relatively vertical front armour plate on the superstructure, the speculative drawing shows a slanting armour plate following the angle of the front chassis. This covers up almost half of the location of the engine and servicing such vehicle would be very difficult.
This model try to reduce the seating area of the driver as much as possible to allow more space to service the engine but still most part of the engine are being covered up. The driver and the radio operator would be very uncomfortable sitting in their position.
The speculative drawing also shows exhaust pipes at the rear of the chassis. This design is also flawed because as the engine is now seated in the middle, ducting will have to be constructed to channel the exhaust back to the rear passing the crew compartment. If the ducting were inside the compartment, any leakage will suffocate the crews inside.
E 50 standard tank - In 1945, the German war machine initiated a development program (Entwicklung, or E) aimed at categorizing the development of AFVs in 5, 10, 25, 50, 75 and 100 ton weight brackets. The E 50 was designed to be between 50 to 75 ton and as a standard tank replacing the Panther and Tiger I. The tank was almost idential to the King Tiger in size but would be easier, cheaper and quicker to produce than the previous designs.
(Read more: http://fingolfen.tripod.com/eseries/e50.html
http://en.wikipedia.org/wiki/Entwicklung_series)