This vehicle is fully painted in dunkelgelb scheme and weathered. Minor assembling required.
This model is made with ABS-L using 3D printing.
Click here to learn more about ABS-L material.
(Painted sample shows model in Game Grade material)
This model features SEPARATE turret hatches for the first time. Hatches can be glued in closed position, OR in opened position to specifically to be used in conjunction with 1:144 WWII German Tank Crew in Combat and 1:144 WWII German Panzerjäger/StuG Crew in Combat from the new Authentic Soldiers series of CGD.
(Figures NOT included)
Hatches in closed position: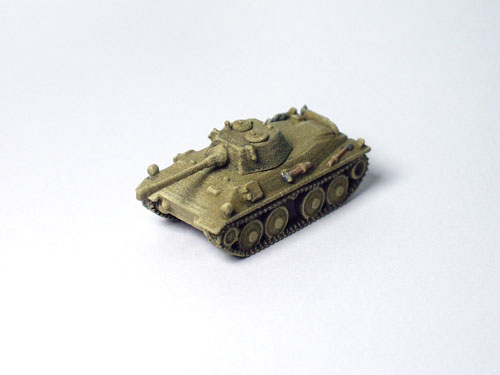 Hatches in opened position:


Hatches in opened position with crews (Figures NOT included):

38D - (Source: Panzer Tracts no. 20-2) In October 1944 German Panzerkommission decided to standardize future Panzer production to use only 3 types of chassis, the 38 (t), Panther and Tiger. Unfortunately the 38 (t) chassis was poorly suited for production by German industries and supply seriously fell short of the demand. A new leichter (light) chassis was redesigned for German production based on the 38 (t). The new chassis would be wider and mounting a new 220 hp Tatra diesel engine. The new chassis was named as 38 D, also known as Pz. 38 "Reich".

Vehicles planned to utilize the chassis included:
1. Aufklaerer 38D mit 2cm im Drehturm (Reconnaissance vehicle with 20mm gun in turret);
2. Aufklaerer 38D mit 7.5cm L/48 ( (Reconnaissance vehicle with 75mmL/48 gun);
3. Panzerfahrzeug mit Granatwerfer (Armoured vehicle with 12cm mortar);
4. Halbgruppenfahrzeug (Armoured personnel carrier for half of an infantry section);
5. Kugelblitz 38D

The Aufklaerer 38D had a longer hull and track contact length. With a different gear ratio gear box, the Aufklaerer 38D was a faster vehicle than the regular 38 D although the engine remained the same.
This model of 1:144 German Aufklaerer 38D mit 5cm Kw.K.39/1 L/60 features a turret fitted with a 5cm Kw.k39/1 L/60 that was looked similar to that used on Sdkfz 234/2 Puma. But in fact it is larger and have thicker armour and was originally intented for use on another Paper Panzer Gefechtsaufklaerer "Leopard" VK 16.02.