This set contains 6 civilians wearing 30's to 50's workmen outfit in various poses, fully painted .

Since civilian cloths varies in colours, this set are painted in random combinations. So if customer purchased two or more sets, the colour combination might be different. Here are some painted samples
(Each set contains only 6 figures):


Figures are set in poses good for doing field works, roadworks or railway constructions.

Figures are shipped with protective bracket as the following photo of unpainted figures **Figures in this listing are PAINTED.** :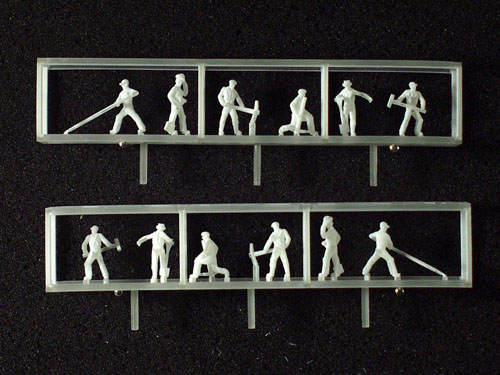 Modelled according to average Caucasian of height 5' 8" to 5' 10" (1.73m to 1.78m). Figure measures approximately 12mm when standing upright. Highly detailed, highly realistic and in real human proportion. NOT big headed cartoon-ish wargame figures!
Digitally mastered, the figures are fabricated with state of the art "3D Printing" technology in ACRYLIC RESIN.
The resin material is like regular resin and should be handled as such.

Also good for "N" gauge or 12mm modelling.