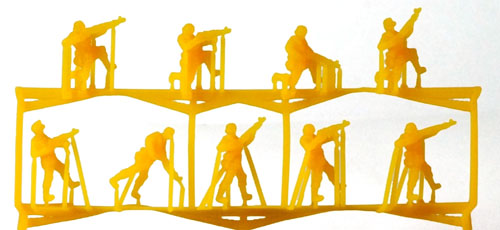 Back View

This set contains 8 individual soldiers and 1 officer in Wehrmacht uniform in various poses firing their MP40 or Kar 98K. This model set is NOT PAINTED.
Painted Sample:
Front


Back




Figures are modelled according to average Caucasian of height 5' 8" to 5' 10" (1.73m to 1.78m). Figure measures approximately 12mm when standing upright. Highly detailed, highly realistic and in real human proportion. NOT big headed cartoon-ish wargame figures!
This model is made with ABS-L using 3D printing.
Click here to learn more about ABS-L material.