1:144 Wargame Diorama
WWII German Bunker
Bauform H667

Beach Painting Scheme

This is a two part model painted in Beach Painting Scheme. The top of the bunker opens for placement of anti tank guns and troops.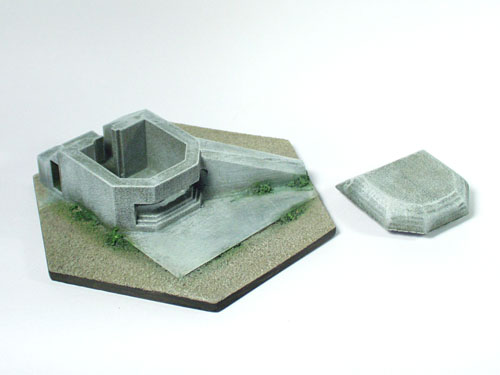 This series combines the usage of the model both as a wargame accessory and as model diorama display.
The GameDio base measures approximately 99mm (3.9 in.) Flat to Flat, which makes it sitting comfortably on common wargame Hex bases that measures 100mm flat to flat. It measures approximately 114mm (4.5 in. ) tip to tip.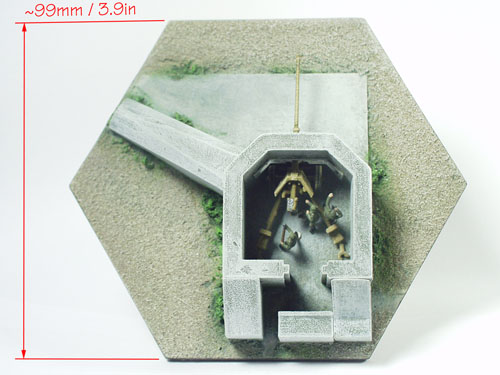 This 1:144 WWII German Bunker Bauform H667 is a simplified design based on the Bauform H667 used in Normandy Exit E-1, on Omaha Beach (D-Day).


(Picture source: http://kampfgruppe144.blogspot.hk/search?q=CGD+bunker)
These bunker types were usually armed with 5cm Kwk 39/40. This model has enough room to up-gun to Pak43,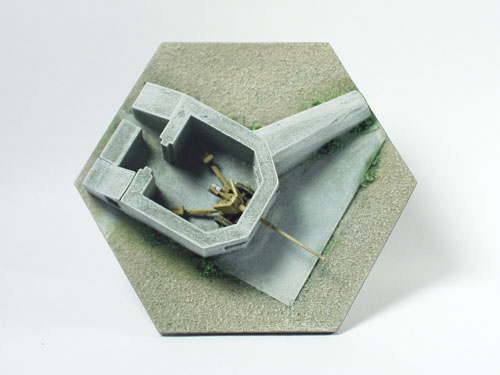 and with crew:


Pak 43 and crews available separately.
Advanced version of Bauform H667 also available separately.
Individually cast in resin, hand painted to the finest detail. 100% made in Hong Kong.
A perfect display base for your 1:144 wargaming and/or displaying your collection of Dragon or Takara WTM 1:144 tanks. Also suitable for N scale and 12mm models.
Suggested layout
(Tanks and soldiers not included)