Base on the propular CGD Mega Diorama "Stronghold", this is specially modified to make use of the CGD 3D Printed 55mm Flak Panther turret and Pantherturm.
The Pantherturm may be the deadliest defense weapon introduced by the Germans in WWII, where a Panther tank turret was put into a concrete/wood/steel sub-structure as a gun emplacement.
The 55mm Flak Panther however, was a "Paper Project". That means it never got past the drawing board phase. But it is still an exciting model to have and an excellent chance to boost up you Anti Air capability if you are making "What if" dioramas.
This diorama features a modified "Stronghold" diorama base, 2 trees, a 3 parts 55mm Flak Panther Turret and a Camo Net. (Soldiers, vehicles NOT INCLUDED.)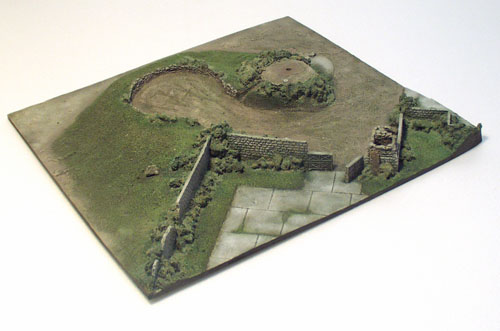 Each of the diorama base is individually hand modified to create the Pantherturm base. The Pantherturm is modeled after the one on display in the West Wall Museum. It shows a steel structure with an entrance port away from the turret.


A 55mm Flak Panther turret in green painting scheme come with the set and a matching camo net provides further protection.
As each diorama is individually modified, each set might slightly different from each other.
Diorama measures approximately 12" X 13", with enough space to create a serious battle scene. A perfect display base for your collection of Dragon or Takara WTM 1:144 tanks. The original Stronghold is very popular to be used as a launching site for German secret weapons. Now you can provide upgraded anti air support for your site..

Specially made for 1:144 (also suitable for N Scale models ) Dragon Cando Micro Armour and Takara World Tank Museum series of candy toys. These individually hand casted and hand painted dioramas provide a perfect home for your micro armour collections. Made in Hong Kong!
This diorama is also available in "Desert", "Autumn" and "Winter" painting scheme. If you would like the diorama build in different painting scheme, please contact us after you ordered.
(Vehicles not included)