Base on the propular CGD Mega Diorama "Stronghold", this is specially modified to make use of the CGD Anti Tank Bunker.
This diorama features a modified "Stronghold" diorama base, 2 trees, and a 5 parts Anti Tank Bunker. (Soldiers, vehicles NOT INCLUDED.)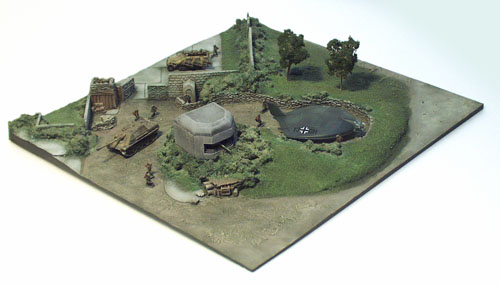 The 5 part bunker is taken from CGD's Anti Tank Bunker set:

The bunker is specifically designed to house different 1:144, 12mm or even N scale anti tank guns on the market. The gun port is designed off centered vertically so that by flipping the bunker body, you can accommodate a lower (e.g.. Takara Pak 40) or taller (e.g.. Takara 88) gun.



You can further adjust the gun height by using the bunker floor provided or do without the floor entirely. The floor itself has concrete block pattern on one side and plain concrete on the other side, giving you more visual variations.
To accommodate larger guns like the Takara 88s, a special gun mount is provided so that you can mount the gun without the undercarriage.


The following photos shows the bunker housing a Takara Pak 40.
The rear door unit is detachable so that you can fit it to the bunker body even when it is flipped upside down:
Each of the diorama base is individually hand modified to make use of the bunker. So each diorama set might slightly different from each other.
Diorama measures approximately 12" X 13", with enough space to create a serious battle scene. A perfect display base for your collection of Dragon or Takara WTM 1:144 tanks. The original Stronghold is very popular to be used as a launching site for German secret weapons. Now you can provide upgraded antitank support for your site..

Specially made for 1:144 (also suitable for N Scale models ) Dragon Cando Micro Armour and Takara World Tank Museum series of candy toys. These individually hand casted and hand painted dioramas provide a perfect home for your micro armour collections. Made in Hong Kong!
This diorama is also available in "Desert", "Autumn" and "Winter" painting scheme. If you would like the diorama build in different painting scheme, please contact us after you ordered.
(Vehicles not included)